You may well know or at least heard about KIMONO (the Japanese Traditional Clothing).
You may think Japanese female were KIMONO all the time.
But most of them only wear at special occasions such as
the Collage Graduation Ceremony, the Adult ceremony
(country-wide ceremony for 20 years olders)
Although the traditional way to ware KIMONO is very beautiful
and exotic, it is not the only way to ware KIMONO.
Especially in Western Countries, women ware KIMNO for fashin.
They enjoy wearing it as a pretty outerwear.
source: scontent-frt3-1.cdninstagram.com source:www.luxo.co.za

source:bjx.jp                                       source:www.beeswonderland.com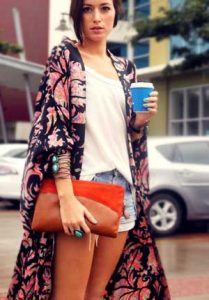 source:front-row.jp                      source: front-row.jp
source:content.mery.jp

Japanese Traditional Shoes called Zori and Geta are also
worn un-traditional way now.
Western clothing and Japanese Geta and Zori match pretty well.
source:kenzine.jp                             source:GASA*inc

source:akko

source:SHOPLIST.com                         source:SHOPLIST.com