Inuyama City is a bed town of Nagoya.
Sanko Inari
Is approximately 25 minutes from Nagoya Station,
and the shrine is 20-minute walk from Inuyama Station.
The shrine was constructed in Shogun Nobunaga Oda's Era.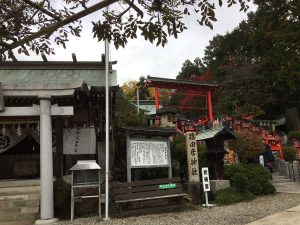 Shrine became very famous because for its
"Heart Shaped EMA"*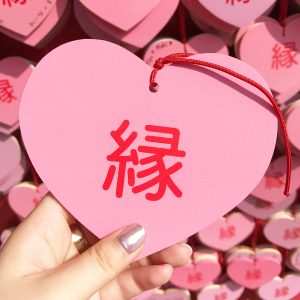 A word "RIM" is written in the middle
The "EMA" is heart shaped and pink color.
Watching thousands of EMA is amazing and beautiful.
The EMA is a heart shape board to write your wish
and tie it to the place provided to hang them.
You are supposed to come back if the wish comes true
for appreciation.
Inari means fox.
There are many shrines to enshrine fox in Japan.
Originally it is God of grain and agriculture, but now it is also believed as a god of commerce and industry.
The shrine that enshrines Inari Shrine is called Inari Shrine,
and Fushimi Inari Shrine in Kyoto is the main shrine of Shinto shrine.
Because it is equated with Ukonomitama, the God responsible
for the grains, many Inari shrines have made "Ukonomitama"
the main god.
It was also enshrined at the Buddhist temple because
"Ukonomitama" was also identified as Buddhist goddess
Zhao Nin Tian.
One interest thing about Japanese Culture is that
many people accept various religions.
You may see a Shintoism Shrine next to a Buddhism Temple
next to a Christian Church.
We do not feel strange at all.
In this shrine, it is also believed that if you wash
your money with a fountain's water, double amount is
believed to come back to you.
Street in Front of the Shrine


There are many interesting souvenir and food shops
on the street in front of the shrine.
It is interesting to watch around these shops.
Near-by Attractions
Meiji Mura, Inuyama Castle
HEART EMA
This "HEART SHAPED EMA" is believed to bring you LOVE (of course)
like couple harmony and matchmaking as well as house security,
business prosperity, land house purification ceremony,
safety drive, and family health, etc.
https://inuyama.gr.jp.e.jm.hp.transer.com/sanko-s.html