Yasaka-shrine is to headquarter of many shrines.
It respects Susanoo-no-mikoto, Kushiinadahime-no-mikoto,
and Yahashira-no-mikogami (highest-kami≒Gods).

It is located in Kyoto (tourists favorite place)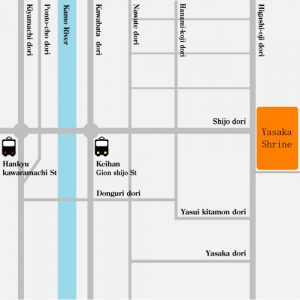 Susanoo-no-mikoto is a great god in Japanese mythology,
known for his defeat of Yamata-no-orochi (a large serpent
with eight heads: a symbol of many disasters), redemption of
Kushiinadahime-no-mikoto, and produced the ground
great-discernment on the earth.
According to the legend of the shrine, its history may
go back as far as AC656. Along with the development of the
capital, adoration to the shrine spread widely all over Japan.
Today, approximately 3,000 satellite shrines exist in
various parts of Japan.
The name of the shrine was changed to Yasaka-jinja when
shrines and Buddhist temples were separated at
the time of the Meiji Restoration.
http://www.yasaka-jinja.or.jp/en/