FUROSHIKI is nothing but a piece of square cloth
if you don't know how to use it.
But when it comes to gift-wrapping FUROSHIKI
is the perfect way to convey thoughtfulness
and courtesy through the care taken in the choice of
wrapping and in the way the fabric is folded and tied.
Whereas regular bags have a fixed amount of space
that can only carry a particular type of object,
a FUROSHIKI is highly versatile and can be adapted
to suit the exacts needs of the specific objects to be carried.
It is usually made with nylon, so it would protect things
inside the FUROSHIKI.
Original way of using FUROSHIKI

Varaety ways of using FUROSHIKI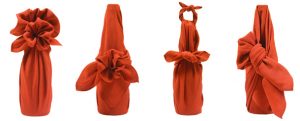 How to wrapp FUROSHIKI



Put one in your bag, it may become handy some time!!