Oasis 21 is a must to see.
It is a beautiful architecture in a park in the middle of
Sakae (Center of Nagoya).
This park opened in 2002 in Sakae.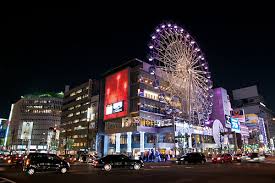 This is complex four-level vaulted structure with the theme of
"Space ship Aqua" (reminds me of STAR TRECK)
that is the symbol of the park and abundant throughout.
The roof is transparent with shallow water pool.
(Sorry you cannot swim or go inside of the pool.)
This water makes the roof lighter than just glass roof,
and the water refraction makes the roof looks like diamond.
There is a tourist information office in the "Galactic Square"
on the basement Currently "Nagoya Mesi (Nagoya cuisine)
restaurant guide MAP" is being distributed free of charge.
So you can find a place to eat very easily.
Currently English, Chinese (Traditional & Simplified Chinese)
and Korean Pamphlets are available.
You can also enjoy rainy day here since there is a huge roof and
directly connected to the underground shopping center
lined with many restaurants, shops and events.
Oasis 21 is also directly connected to subway station and bus terminal.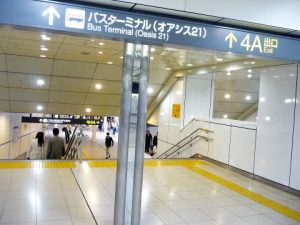 This is a one day pass for subway. If you move within Nagoya,
this makes you same money.
The "Field of Green" is on the ground level where
flowers and trees are planted.
The "Galaxy Platform" is basement level where many
events are held.
Also on the ground level, there are various shops. If you like Japanese
Anime, you may find various Anime goods at Jump-Shop.
There are Nagoya TV tower and Aichi prefectural art museum at the walking distance.
Is Oasis 21 really a must to go place for foreign tourists?
Here are what they say:
I am on a vacation taking a month off and I got friends to 
show me the pictures and I found it beautifully and it's 
beautiful, is not it?" (Mike / USA)
I have been visiting Japan since 35 years ago.  
I have been in Nagoya 5 times.
I take photos as a hobby.  
At the Oasis 21 reflecting a TV tower  on the surface of the water 
makes an amazingly beautiful photo.(Ken-san / USA)
Oasis 21 was introduced on the Internet, and I knew the contrast of 
the water roof with the TV tower and the sunset is beautiful.  
It's much better than the SNS (Annees, Justin, James / UK)
I went to Nagoya Castle, ate Miso Katsu, did a cosplay of a high-school 
Uniform in Osu, then came back on the sunset. Nagoya, super fun!"
(Diaz / Philippines)
This is the third time to Nagoya.  
It is very busy here, but if you take a picture the night is very beautiful, 
We took a lot of pictures here" (San & Si / Vietnam)
I've seen pictures before. I came to take pictures of the night view.  
It's a futuristic modern architecture" (David / Germany)
But the most famous and beautiful event at Oasis 21 starts at 9:00pm,
only for 1 hour.
Please see on your own eyes.