"Hello Kitty" was created in 1975.
It has been 40 years since its birth.

【by wikimedia】
Hello Kitty has been popular among all generations.
The most well-known goods are "Area Limited Hello Kitty Key Chain"
Every Prefecture as well as Popular Tourist sites have their own Hello Kitty Key Chain
Hello Kitty is a character created by the company called SANRIO.
They have other characters but they did not become as
popular as Hello Kitty.
Hello Kitty corroborates with many companies cheap to
luxurious such as "Daiso", 100 yen shop, to Reebok and Swarovski.
In the Kitty Land (Hello Kitty Limited Shops), you may see
Hello Kitty Swarovski Pendant Neckless for over 1,000 US dollars.

by musium. or. jp                                    by www.47news.jp
-Platinum Kitty and Diamond Kitty, both over US$ 10 million–
On the other hand you may also see tissues and knickknacks in DAISO for 100yen.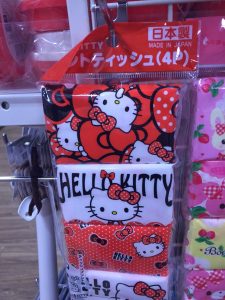 Hello Kitty is very famous worldwide. My British and French friends request me to bring something that has Hello Kitty on it.
The secret for popularity of Hello Kitty was said by Brand Specialist that Hello Kitty does not have a mouth and it also does not show any emotion. This means your emotion is reflected on Hello Kitty. Mmmm, that is interesting. And I did not even notice about her mouth. I thought that I just like Hello Kitty.
Anyways Hello Kitty is popular among three generations now.
High school kids in 1970s who loved Hello Kitty are now grandmothers.
I myself have socks, card holder, stuffed Kitty, as well as many are limited key holders.
I cannot count how many. I have too many.
Here shows the Kitty Land at Centrea (Nagoya) Airport.