There are so many events in Nara City.
This time, we did not even know this event.
This was a lucky day for us.
We got off the bus and start walking toward Nara
Prefectural Office.
There we saw a big firework and Wakakusayama-Yaki
(Mountain firing in January)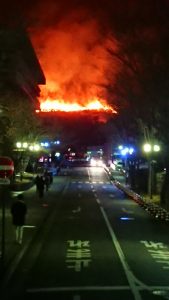 There also was a firework going on.
It is very rare to see such a big firework in winter.

An entire hill is set ablaze in winter.
A New Year event which originated in boundary disputes among temples.
Rising 342 meters above sea level, Mt. Wakakusayama,
also known as Mt. Mikasayama, was formerly a volcano.
Burning up the entire hill is held every year on the
fourth Saturday of January.
The origins of this event are said to lie in a dispute
over the boundaries of Kofuku-ji Temple located in
Nobori Oji-cho, Nara City and Todai-ji Temple,
which is famous for its Great Buddha statue in Zoshi-cho,
also in Nara City.
The boundary dispute got out of control and when an official acted
as mediator in 1760, Mt. Wakakusayama, the very center of the conflict,
was set ablaze.
According to other explanations, the mountain was burned to
drive away wild boars or to exterminate harmful insects.
A torch is lit with sacred fire at Kasuga Taisha Shrine.
This sacred fire is carried down to a small shrine
at the foot of the hill by a parade of Buddhist monks.
First, the hill is ignited with the sacred fire by
members of Kofuku-ji, Todai-ji and Kasuga Taisha.
Then 200 fireworks are launched and the hill continues
to burn for some 30 minutes.
With the fire brigade standing by, there's no need
to worry about the fire spreading.
This fire spectacle can be seen from the surrounding towns,
but Nara City which faces the hill offers the most beautiful views.